Explore the Salish Sea: A Nature Guide for Kids (Hardcover)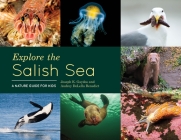 Description
---
Filled with beautiful photography and engaging text, Explore the Salish Sea inspires children to explore the unique marine ecosystem that encompasses the coastal waters from Seattle's Puget Sound up to the Strait of Juan de Fuca and the Georgia Strait of British Columbia.

Discover the Salish Sea and learn about its vibrant ecosystem in this engaging non-fiction narrative that inspires outdoor exploration. Filled with full-color photography, this book covers wildlife habitats, geodiversity, intertidal and subtidal sea life, and highlights what is unique to this Pacific Northwest ecosystem.
About the Author
---
JOSEPH K. GAYDOS is chief scientist for the SeaDoc Society, a marine science and conservation program focused on the Salish Sea. He is a licensed wildlife veterinarian and has a PhD in wildlife health. For over a decade he has been studying the fish and wildlife of the Salish Sea.

AUDREY DELELLA BENEDICT is a biologist, writer, and passionate advocate for the conservation of the global ocean and Arctic and alpine environments the world over. She is founder and director of Cloud Ridge Naturalists, a nonprofit natural history educational organization now in its fourth decade. She is currently a member of the board of the SeaDoc Society and served for nearly a decade as a trustee for the Colorado chapter of The Nature Conservancy, from which she received the prestigious One Conservancy Award in 2003 for her work in Ecuador. Audrey splits her time between her home at 9,000 feet along the Colorado Front Range and her off-grid cottage on San Juan's Frost Island.
Praise For…
---
"A cross between a picture book and a chapter book, this captivating guide packed with colorful photos will keep readers occupied in the car for hours on a road trip and ensure they're ready to explore upon arrival."--Hakai Magazine

"If there is an award for the most beautiful book of the year, a new natural history of the Salish Sea must surely be in the running."--Encyclopedia of Puget Sound

"If you have any young beachcombers in your party, consider "Explore the Salish Sea: A Nature Guide For Kids," a lavishly illustrated new book by scientists Joseph Gaydos, of Orcas Island, and Audrey DeLella Benedict, of Colorado."--The Spokesman-Review

"A jellyfish, luminous and mysterious, floats through dark water. A gull looks like it's trying to talk with its mouth full of a starfish. And a sea lion swims straight toward the camera, its eyes big and soulful. Explore the Salish Sea, a new nature guide for kids, is a lavishly illustrated exploration of the waters that connect Washington and British Columbia."--Seattle Times

"This picture book is bursting with colour photos of the marine life that makes up this vibrant Pacific Northwest ecosystem." --Where Vancouver Magazine

"Explore the Salish Sea: A Nature Guide for Kids is so rich with compelling, engaging photos of things that swim, wriggle, and grow beneath the water's surface" --Bellingham Alive

"A great title to promote curiosity in the unseen magnificence of the Pacific Northwest. Highly recommended for all libraries."--South Sound Book Review Council

"This lovely treasure is a book meant to be shared with friends and family. There will be plenty of oohs and aahs over the facts and pictures revealed on every page."--Wendy Kendall, Edmond News