Killing England: The Brutal Struggle for American Independence (Bill O'Reilly's Killing Series) (CD-Audio)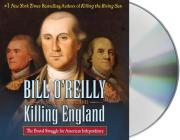 $39.99

Special Order - Subject to Availability
Description
---
This program features an introduction read by Bill O'Reilly.

The Revolutionary War as never told before.

The breathtaking latest installment in Bill O'Reilly and Martin Dugard's mega-bestselling Killing series transports listeners to the most important era in our nation's history, the Revolutionary War. Told through the eyes of George Washington, Benjamin Franklin, Thomas Jefferson, and Great Britain's King George III, Killing England chronicles the path to independence in gripping detail, taking the listener from the battlefields of America to the royal courts of Europe. What started as protest and unrest in the colonies soon escalated to a world war with devastating casualties.

O'Reilly and Dugard recreate the war's landmark battles, including Bunker Hill, Long Island, Saratoga, and Yorktown, revealing the savagery of hand-to-hand combat and the often brutal conditions under which these brave American soldiers lived and fought. Also here is the reckless treachery of Benedict Arnold and the daring guerilla tactics of the "Swamp Fox" Frances Marion.

A must listen, Killing England reminds one and all how the course of history can be changed through the courage and determination of those intent on doing the impossible.
About the Author
---
BILL O'REILLY's success in broadcasting and publishing is unmatched. He was the iconic anchor of The O'Reilly Factor, the highest-rated cable news broadcast in the nation for 16 consecutive years. His website BillOReilly.com is followed by millions all over the world, his No Spin News is broadcast weekday nights at 8 and 11 (ET) on The First TV, and his O'Reilly Update is heard weekdays on more than 225 radio stations across the country. He has authored an astonishing seventeen #1 bestsellers; his historical Killing series is the bestselling nonfiction series of all time, with over 18 million books in print. O'Reilly has received a number of journalism accolades, including three Emmys and two Emmy nominations. He holds a History degree from Marist College, a master's degree in Broadcast Journalism from Boston University, and a master's degree from Harvard's John F. Kennedy School of Government. O'Reilly lives on Long Island where he was raised. His philanthropic enterprises have raised tens of millions for people in need and wounded American veterans.

Robert Petkoff has won multiple AudioFile Earphones awards for his acclaimed narrations. He was named Best Voice of Fiction & Classics for his reading of The Evolution of Bruno Littlemore by Benjamin Hale. His other narration credits include Oath of Office by Michael Palmer, Gangster Squad by Paul Lieberman, and books by David Foster Wallace.Petkoff has appeared on Broadway, Off-Broadway, and in theaters across America and Europe.  He has worked in television and film. His theater credits include Lord Evelyn Oakleigh in the Broadway production of Anything Goes, Perchik as part of the Tony-nomianted cast of Fiddler on the Roof, and Hubert Humphrey in the Tony award-winning play All the Way. He has also had numerous roles in television on shows such as Law and Order and Married with Children.

MARTIN DUGARD is the New York Times bestselling author of several books of history, among them the Killing series, Into Africa, and The Explorers. He and his wife live in Southern California with their three sons.