The Nightingale: A Novel (CD-Audio)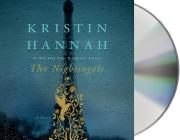 $44.99

Special Order - Subject to Availability
Staff Reviews
---
Kristin Hannah's The Nightingale is one of my husband's and my favorite books. It's a great combination of history, adventure, overcoming diversity, and a little romance. A captivating book that will be difficult to put down and will capture your heart! 
— Mae
February 2015 Indie Next List
---
"Filled with sacrifice, betrayal, suspense, courage, and ultimately, forgiveness, The Nightingale offers a haunting glimpse of what it was like for women to survive during WWII. Set in a small town in France, The Nightingale tells the alternating stories of two sisters, their father, and the friends and enemies that occupy their lives during this tragic period of history. Based on a true story, The Nightingale weaves a riveting tale around the heroism of Isabelle, a young woman who serves as a key player in the underground Resistance, and her sister, Viann, who is back home under German occupation, near starvation and struggling to save Jewish children. In the end, however, perhaps this novel is more about the sisterly bonds of love that, although stretched to the limit, still endure. You will not forget the song of The Nightingale."
— Marnie Mamminga, Redbery Books, Cable, WI
Description
---
A REESE'S BOOK CLUB PICK

A #1 New York Times bestseller, Wall Street Journal Best Book of the Year, and soon to be a major motion picture, this unforgettable novel of love and strength in the face of war has enthralled a generation.

With courage, grace, and powerful insight, bestselling author Kristin Hannah captures the epic panorama of World War II and illuminates an intimate part of history seldom seen: the women's war. The Nightingale tells the stories of two sisters, separated by years and experience, by ideals, passion and circumstance, each embarking on her own dangerous path toward survival, love, and freedom in German-occupied, war-torn France—a heartbreakingly beautiful novel that celebrates the resilience of the human spirit and the durability of women. It is a novel for everyone, a novel for a lifetime.

Goodreads Best Historical Novel of the Year • People's Choice Favorite Fiction Winner • #1 Indie Next Selection • A Buzzfeed and The Week Best Book of the Year

Praise for The Nightingale:

"Haunting, action-packed, and compelling." —Christina Baker Kline, #1 New York Times bestselling author

"Absolutely riveting!...Read this book." —Dr. Miriam Klein Kassenoff, Director of the University of Miami Holocaust Teacher Institute

"Beautifully written and richly evocative." —Sara Gruen, #1 New York Times bestselling author

"A hauntingly rich WWII novel about courage, brutality, love, survival—and the essence of what makes us human." —Family Circle

"A heart-pounding story." —USA Today

"An enormous story. Richly satisfying. I loved it." —Anne Rice

"A respectful and absorbing page-turner." —Kirkus Reviews

"Tender, compelling...a satisfying slice of life in Nazi-occupied France." —Jewish Book Council

"Expect to devour The Nightingale in as few sittings as possible; the high-stakes plot and lovable characters won't allow any rest until all of their fates are known." —Shelf Awareness

"I loved The Nightingale." —Lisa See, #1 New York Times bestselling author

"Powerful...an unforgettable portrait of love and war." —People

A Macmillan Audio production from St. Martin's Press.
About the Author
---
KRISTIN HANNAH is the #1 New York Times bestselling author of more than twenty novels, including The Nightingale, The Great Alone, and The Four Winds. A former lawyer turned writer, she lives with her husband in the Pacific Northwest.

Polly Stone has recorded a number of popular audiobooks, the most prominent of which is Sarah's Key by Tatiana de Rosnay. Publishers Weekly praised her narration of the novel saying that " Polly Stone gives an excellent performance... [The] novel is captivating, and the powerful narration gives it even greater impact." She has also narrated Shaggy Muses and is the author of 1003 Great Things About Being Jewish.
Praise For…
---
"Polly Stone delivers an impeccable narration that brings the sisters and wartime France to life with a distinctive and memorable set of voices that will keep listeners coming back for more." —Library Journal (Starred Review)

"The audio version is outstandingly read by Polly Stone, whose versatility -- between men and women, Germans and French, adults and children -- leaves no doubt who is speaking throughout the book." —Fran Wood, NJ.com

"I loved Kristin Hannah's The Nightingale. She has captured a particular slice of French life during World War II with wonderful details and drama. But what I loved most about the novel was the relationship between the two sisters and Hannah's exploration of what we do in moments of great challenge. Do we rise to the occasion or fail? Are we heroes or cowards? Are we loyal to the people we love most or do we betray them? Hannah explores these questions with probing finesse and great heart." —Lisa See, #1 New York Times bestseller author of Snow Flower and the Secret Fan

"In this epic novel, set in France in World War II, two sisters who live in a small village find themselves estranged when they disagree about the imminent threat of occupation. Separated by principles and temperament, each must find her own way forward as she faces moral questions and life-or-death choices. Haunting, action-packed, and compelling." —Christina Baker Kline, #1 New York Times bestselling author of Orphan Train

"I read The Nightingale in one sitting, completely transported to wartime France, completely forgetting where I was. A historical novel-built on Kristin Hannah's proven skill with story, complex and enduring family ties, and passion-one that will captivate readers." —Marilyn Dahl, Shelf Awareness

"I found The Nightingale absolutely riveting! I started reading it one night after supper with every intention of reading just a few chapters for that evening and could not put it down. Not only is it an emotionally inspiring story with well-drawn characters whom you grow to care about deeply, but it is also historically informative....Read this book. It will keep you guessing throughout about the two sisters, Vianne and Isabelle, both brave young women who did what they thought was the right thing to do in the most of difficult circumstances. They had--in the words of Lawrence Langer the WW2 historian scholar too often to make 'choiceless choices.'" —Dr. Miriam Klein Kassenoff, Director of the University of Miami Holocaust Teacher Institute

"A beautifully written and richly evocative examination of life, love, and the ravages of war, and the different ways people react to unthinkable situations-not to mention the terrible and mounting toll of keeping secrets. This powerhouse of a story is equally packed with action and emotion, and is sure to be another major hit." —Sara Gruen, #1 New York Times bestselling author of Water for Elephants